Hello.
This is the new section, for which I'm still waiting approval from Mike(!), where the two administrators sum up the week in their eyes. To me it seems like a good idea anyway. Worth a try.
It's been a very eventful week in motorsport, the MotoGP Grand Prix of Portugal and the BTCC rds 4-6 at Rockingham being the two main events in the last seven days.
Now, MotoGP is the least talked about subject of anything, ever, and no one knows anything about it. You say 'Hey, did you watch the Grand Prix at the weekend?' and they reply 'It was two weeks ago you jackass.' You then find yourself once more explaining that a MotoGP race is also called a Grand Prix, not just a Formula 1 race.
Anyhow, this weekend was a big one for MotoGP. Saturday wasn't a big shock, despite Lorenzo being on pole in only his third race in the big series. The shock was probably not as big as it could have been due to the fact that it was the Spaniard's third pole in his third ever race.
So, for the third time in a row, we saw Jorge Lorenzo lead off the line. He went on to take his first ever win, which is always good in a sport that has predominantly been dominated by three riders in the last several years; Valentino Rossi, Casey Stoner and Nicky Hayden - albeit Dani Pedrosa sometimes putting himself into the mix.
To add to the publicity it got (a 22 word column in the Sun), James Toseland is now getting his fair share of attention in the British media. God knows why, he's hardly a rookie sensation, no Lewis Hamilton. But a seventh and two sixth places aren't bad.
Mat Jackson took his third ever BTCC race win at Rockingham as well on Sunday. He was arguably the star of the show, but not the big story. Rain absolutely poured down in the latter stages of the day, and for the whole of round 6 drivers were hampered by a torrential rain storm. The VXRs were definately the strongest cars in the extreme weather, with Matt Neal finding that he could push harder than his opponents and open up a gap at the front, him being the fourth leader of the race for round six. He stormed to victory, bad pun aside, and was followed home by Tom Chilton and a flying Adam Jones in the petrol Seat.
Jason Plato had a bad weekend, a sixth place being the top result he took away from the Northamptonshire circuit. His woes added to those of the whole Seat team. However Darren Turner in the other TDi racked up two podiums, a second and third, so all was not lost for the team.
Michael Schumacher made a welcome return to the F1 scene in the F2008
at Barcelona this week
The Formula One (not MotoGP) Bahrain Grand Prix a fortnight ago as eventful, too. Ferrari confirmed how strong they were, with Felipe Massa absolutely dominating from lights to flag. The win puts him sixth in the championship, four behind Lewis Hamilton, who is five behind leader Kimi Raikkonen. It was BMW however that were the stars of the weekend, particularly in qualifying. Robert Kubica stole an almost certain pole position from Massa, and a third and fourth in the race for the German-Swiss team means they head to Spain next week leading the Constructors' championship.
McLaren's problems proved to be more serious than originally thought: Lewis Hamilton could only qualify on the second row in third, and team mate Kovalainen directly behind him in fifth. Lewis got a terrible start of the line, having engaged his anti-stall system. He dropped down to tenth and on lap two, whilst trying to pass ex-team mate and archrival Fernando Alonso, got a better run out of turn three and launched his McLaren over the back of the Renault's rear wing. He limped back to the pits and came home 12th.
Kovalainen allowed the BMW of Nick Heidfeld past and so finished fifth, the only consolation being his fastest lap; all to no avail.
Since the races, very little has happened. Formula One has begun a multi-team four day test at the Circuit de Catalunya before the Spanish Grand Prix (not MotoGP) on the 27th. Michael Schumacher is today back in the cockpit for Ferrari, we've seen a return of slicks and 2009-regulation aero, and Toro Rosso have performed a shake-down of their STR-03. Also, Super Aguri's deal with potential take-over Magma has fallen through, once more throwing the future of the Leafield based team into doubt. (see our news page).
Even less has happened in the other two sports I feel like covering today. In MotoGP, Jorge Lorenzo has had a successful operation on his arm and reckons he will be looking at a top five finish at the Chinese Grand Prix (MotoGP).
And in BTCC, well, nothing.
To keep up to date with the latest headlines, stories and features, check our news page and forum updates.
www.formulatorque.5forum.net
Ross

_________________
Formula Torque Administrator
Admin





Number of posts

: 121


Registration date :

2008-02-23



Quick update to this week's column.
How many mistakes will it take for Lewis Hamilton to finish 'learning'? Every single time he has made a mistake or has had an accident, like his wheel delaminating in China last year, about which Ron Dennis chose his words carefully and didn't deny it was Lewis's fault, or like his dreadful Bahrain race, Lewis just shakes off the bad press by saying 'I will learn from this,' or 'it's all part of the learning curve every driver goes through'.
That he makes mistakes is fine - he's a great young driver and everyone makes mistakes - but he always, somehow, manages to blag his way out of it with his puppy dog eyes and his persistent 'I'm still learning, it was only my rookie season last year.'
Soon people will tire of it. Eddie Irvine stood out as the earliest to see past his boyish front. There's a better way to learn than to make mistakes mate.
I've taken the liberty to comprise a gallery of times when Lewis has used the learning excuse: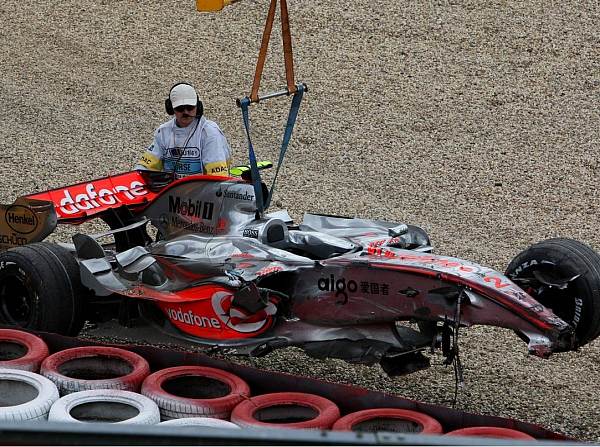 Qualifying, 2007 European Grand Prix, Nurburgring, Germany
Technically not a mistake, but Lewis still seemed to learn from it
2007 Chinese Grand Prix, Shanghai
'I thought it would knock my confidence and put me on my back foot, but I went
away and I thought about the weekend and I feel Iím even stronger than I was'
Hamilton failed to pit before his tyre delaminated, and he was beached in the gravel.
Hamilton left the track in desparation to pass Alonso,
and then his gearbox had problems
Bad start off the grid followed by a trip over Alonso's
rear wing in Bahrain.
'We have a good package and the team has been working
very hard to make sure we continue to improve. I have learnt
from my mistakes, and I have certainly not ruled out the
opportunity to win this year.'
This wasn't some biased attempt to make Hamilton look bad, it's more of a compliment - its a compilation of Lewis's learning experiences in the past.
Read Hamilton's latest 'I will learn from my mistakes' speech

_________________
Formula Torque Administrator
Admin





Number of posts

: 121


Registration date :

2008-02-23





Similar topics
---
Permissions in this forum:
You
cannot
reply to topics in this forum